La Capannina Fashion Show.
Le luci della moda puntano su
La Capannina
di Franceschi.
La discoteca regina della
Versilia
ospita un fashion show di rilevanza nazionale.
Sabato 5 aprile
occhi puntati su
La Capannina di Franceschi
, la discoteca in attività da più anni nel mondo che proprio quest'anno festeggia il suo
85esimo anniversario
.
L'occasione sarà
La Capannina Fashion Show
, una serata decisamente
glamour
che fa del
locale di Forte dei Marmi
il palcoscenico per alcuni dei
brand più rappresentativi
della
moda made in Italy
.
Dinner & fashion show a Forte dei Marmi.
Al termine della
cena
, in cui gli ospiti del
ristorante de La Capannina di Franceschi
potranno gustare le selezioni di mare o di terra dello chef David Romagnoli, saliranno in passerella le collezioni di
NANOT
(beachwear/borse),
B.YU
(abbigliamento donna),
GIANNI LUPO
(abbigliamento uomo) e
DueDiLatte
(street wear).
Lo spettacolo sarà condotto da
Iris Tinunin
, blogger di fama nazionale e co-fondatrice di
Toscana&Blogger
, il
primo indice autogestito di blogger
legati alla Toscana.
A seguire spazio alla musica che a La Capannina di Franceschi è presente in tutte le sue forme:
deejay set
e
musica dal vivo
in discoteca e
piano bar
nel privé.
Ospiti de La Capannina i blog più influenti della rete. Il mondo del
web 2.0
non poteva mancare a un appuntamento del genere e sarà rappresentato dei più influenti esponenti
dei fashion blog italiani
.
Hanno già confermato la loro presenza la milanese
Camilla Gullà
di
Camilla's Secret
, la romana
Sabrina Musco
di
Freaky Friday
e le toscanissime
Sandra Bacci
di
Smilingischic
,
Federica Santini
di
21grammi
,
Sara Tartaglia
di
Blue Nail Girl
,
Moira Pugliese
di
MFashion With Love
,
Sara Bucchi
di
The Little Blonde
ed
Elisa Severi
già
Miss Toscana
.
Queste solo alcune delle
star della rete
che parteciperanno accompagnate
Giorgio Leone
,
fotografo di street style
.
A organizzare l'appuntamento sono
Iris Tinunin
e
Luca Bartoli
,
copywriter
, che per
La Capannina di Franceschi
ha creato
DiscotecaForteDeiMarmi.com
Non un semplice sito ma una
piattaforma di content marketing
che offre contenuti di qualità e informazioni sempre aggiornate, affiancando il
sito ufficiale
della discoteca e vari
profili Capannina sui social network
e dando alla
regina delle discoteche
una visibilità online senza paragoni.
Live twitting: #capanninafashionshow
Oltre a poter partecipare alla serata, per cui si consiglia di
riservare la cena
per assistere allo spettacolo fin dall'inizio o un
tavolo dopocena
per evitarele code, inevitabili in
serate di primo piano
come queste, i tantissimi follower delle
regine della rete
potranno seguire in diretta l'evento attraverso l'hashtag
#capanninafashionshow!
Per informazioni e prenotazioni potete contattre il
347.477.477.2
oppure potete scrivere a
info@discotecafortedeimarmi.com
.
Un abbraccio,
Benedetta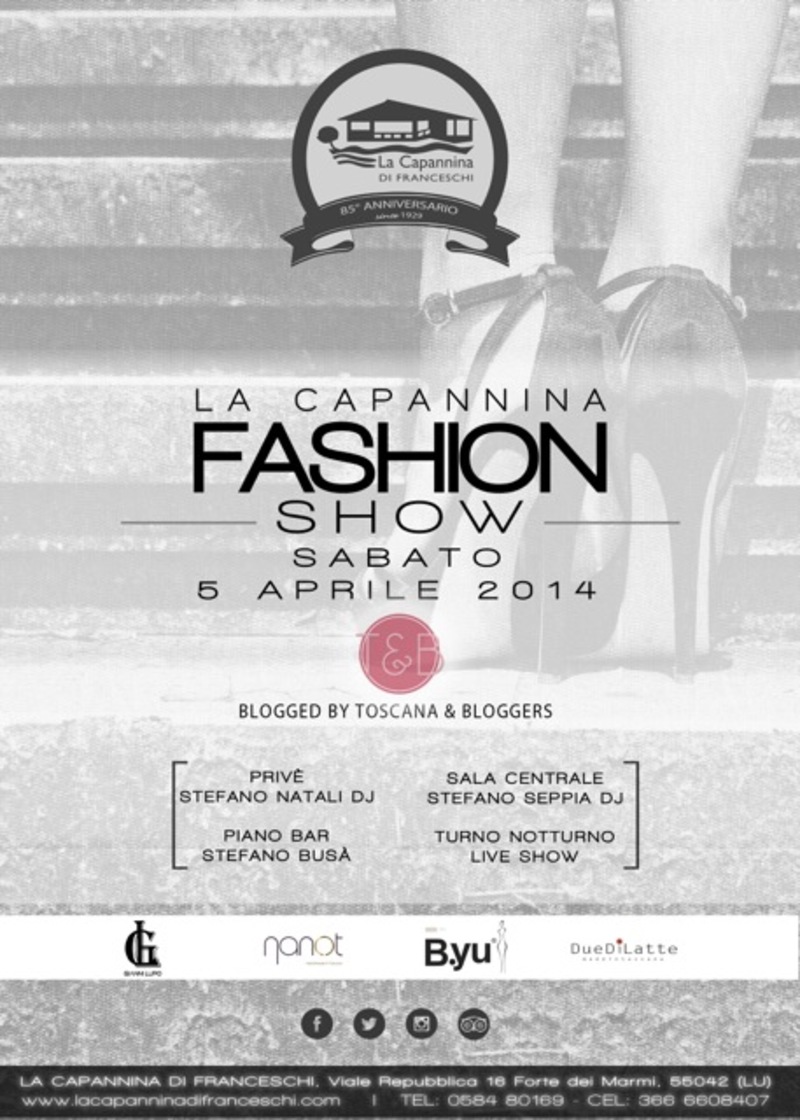 Commenti